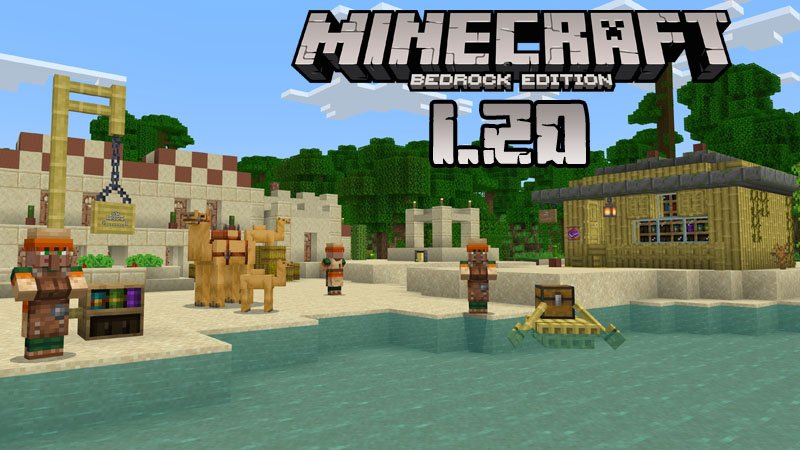 Minecraft PE 1.20
25 October, 2022
Game Minecraft PE
If you had time to read the article about
Minecraft PE 1.19.50.21
published on our
website
yesterday, you probably have an idea of what
Minecraft PE 1.20
has to offer, but we will enlist the features anyway because they are more stable now and after all, this is the legendary first full version of the grand update planned to be released at the beginning of next year.
New features of Minecraft Bedrock 1.20
If you didn't have the chance to do it yesterday, download and install the version we are describing now and you will discover:
A fully upgraded Dressing Room where you can try on more default skins and see the improved looks of Alex and Steve.




The Camel. A very energetic animal that will be happy to give you and one of your friends a ride. Thanks to its height, riding it can prevent you from getting melee attacks from hostile mobs. Just like almost any other mob, it is possible to tame and breed the camel.

Bamboo Set. Bamboo can be crafted into stairs, slabs, and even mosaic blocks and it will definitely make your builds adorable.

Hanging Sign. You can use any kind of wood to create a hanging sign and you can attach it either to the side or beneath any block.




Chiseled Bookshelf. Now you can store your enchanted books and quilts on a bigger kind o bookshelf.

Before installing this update, we recommend you watch the video trailer because it contains more detailed information and you will have the possibility to see all these features before adding them to your game.
Keep following us because the upcoming
game versions
promise to be very interesting and we will write about them as soon as they are released.
All the articles about new versions and about
maps
,
textures
, and other content can be shared with friends. Use this opportunity to communicate with other players about your favorite game. Have a good time!
Video of MCPE 1.20
---
25 October, 2022