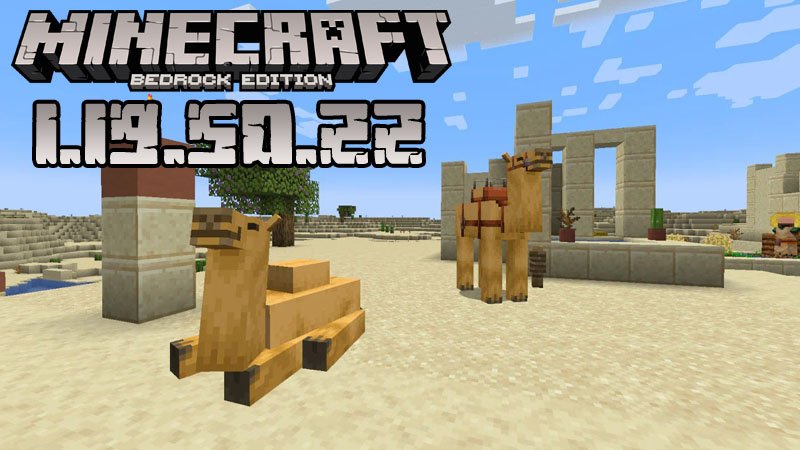 Minecraft PE 1.19.50.22
4 November, 2022
Game Minecraft PE
After the release of
Minecraft PE 1.20
when the game developers added several simply amazing new features, many players admit that the game became even more fun. Today you will see that some of these features became even better. You will see in what way by installing
Minecraft PE 1.19.50.22
.
New changes in Minecraft Bedrock 1.19.50.22
Get ready to see the following features improved. Below we will describe in what way.
Camels. Now their animations are cooler and correspond to the animal's dashing and walking speed. The length of the dash also depends on the applied effects. You will also notice that their spawn eggs/ color was modified and that their health regenerates gradually.




Chiseled bookshelves can be crafted with planks and slabs of any kind of wood you prefer. The developers of the game also added tooltips letting the player know when he/she can pace or remove books, but their appearance depends on whether the bookshelf is full or not.

Dressing Room. When accessing it, players will be able to watch a presentation and instructions about the new characters who joined Alex and Steve.
Besides improving these features, you will also see that many issues affecting the following game aspects have been fixed:
Game's stability (crashes occurring when non-player owner clients use the nether portal and when loading Jurassic World and other such worlds from the Marketplace)

Technical (bug affecting has_property, a contrast-related problem affecting the toggles and arrows used when hovering over the screen, etc)

Spectator Mode (ability to activate sculk shriekers, and pressure plates and use sensors to spawn wardens)

Sounds and animations (lily pads and blocks that get destroyed because they have no support not making any animations and sounds)

Touch Controls (weapons not launching immediately while the player swims, impossibility to drag the joystick's movement circle over the hotbar, some control schemes not letting players interact with the hotbar, crosshair mode control schemes having incorrect button colors, etc.)

Mobs (slimes, pufferfish, and magma cubes behaving incorrectly in relation to the player's shield, armor stands not dropping the correct item, ender dragon not loading after the player's death)

As we always do, we recommend you watch the video below this article if you want to learn more about this new beta version.
To be informed about all the upcoming
game versions
and about new
maps
,
mods
, and other content, subscribe to our
website
and have a good time!
Video of Minecraft Bedrock 1.19.50.22
---
4 November, 2022