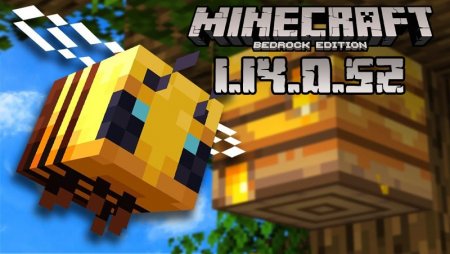 Minecraft 1.14.0.52
28 November, 2019
Game Minecraft PE
Lately the Minecraft PE developers release frequent betas containing short lists of fixes and occasional changes.
MCPE 1.14.0.51
is an example of this. Today we will present you
Minecraft Bedrock 1.14.0.52
, a version with a similar list by size, but as always, the fixes make the game better and the players can enjoy their worlds peacefully, without getting distracted by weird issues like milk suddenly disappearing from the buckets or strange view bobbing.
We will tell you more about the problems that were fixed in Minecraft PE 1.14.0.52, but first, let us remind you that Realms and non-beta players are not accessible as long as you use the beta and that it is recommendable to back up your builds. This is available both for the builds in progress (save them before installing the present version) and for the ones you are going to work on in 1.14.0.52.
Bugfixes in Minecraft Bedrock 1.14.0.52
The Minecraft developers made a great job of fixing several noticeable issues, including some crashes. The crashes affected mostly the Xbox One users but now they can relax and enjoy their game in peace.
Other problems were connected to:
The Character Creator

Areas with many users playing at once

Marketplace Inventory Screen

Crafted items (disappearing sometimes)

Milk (also disappearing from buckets)

View bobbing

Fixing work was carried out to remove these problems, so now the players can have smoother gameplay, or at least they can stop worrying about the ones already detected.
In addition to the bugfixes, Minecraft Bedrock 1.14.0.52 also has a change regarding the behavior of the bees. Now they will get angry in case a baby bee is attacked.
If you are ready to explore the version presented above, use the download button but don't forget to share this article with other MCPE users and to leave feedback.
To get deeper into the MCPE Universe, visit our
website
. Beside a large number of cool
mods
and
maps
you can find out about the future versions, for example,
Minecraft 1.15
, planned for January 2020!
Video of Minecraft 1.14.0.52
---
28 November, 2019