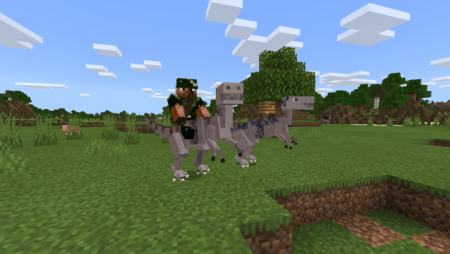 Addon Pterodactyl and Velociraptor 1.14
3 September, 2020
Minecraft PE Mods
We hope you like dinosaurs because today you are going to meet two representatives in your Minecraft PE worlds thanks to
Addon Pterodactyl and Velociraptor
.
Features of addon Pterodactyl and Velociraptor
The addon brings two dinosaurs that spawn naturally in Plains and Roofed Forest biomes. They are:
The Pterodactyl
: a flying creature that can be seen at dusk. It is very aggressive towards players and Velicoraptors.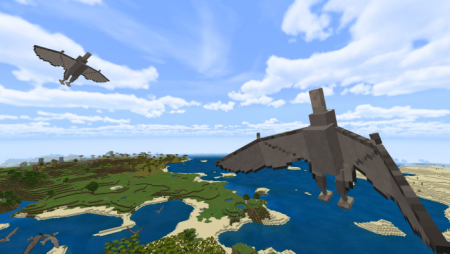 The Velociraptor
is the second dinosaur featured in this addon. It is also aggressive towards the previously-described dinosaur and towards players. Take good care because it has incredible speed and will run towards you as soon as it sees you. The cool thing about this creature is that it does not spawn on its own, but with a Commando Archer on its back.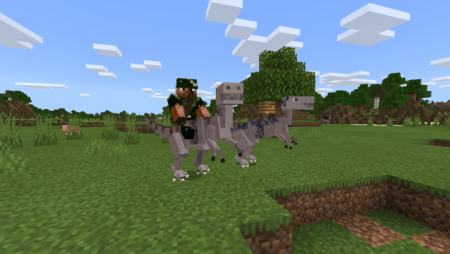 To see these two grand dinosaurs in action, watch the video trailers below the article.
If you liked what you saw and are ready to welcome Pterodactyls and Velociraptors in your peaceful MCPE world, hit the download button, share the article with other players, and leave feedback.
Visit our
website
to discover more
mods
and other cool MCPE-related articles with free download buttons. Here you can also find the
latest game versions
, including
Minecraft PE 1.16.100.53
which is the freshest one. Have a great time!
Video Trailers of Addon Pterodactyl and Velociraptor
Addon Pterodactyl and Velociraptor
---
3 September, 2020