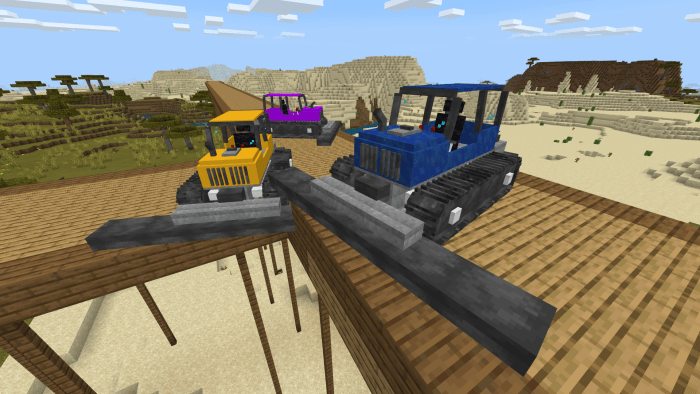 Addon Road Builder & Rail Builder 1.16.100
30 May, 2021
Minecraft PE Mods
Build roads and railroads like a pro with
Addon Road Builder & Rail Builder
! Now your Minecraft PE world can become more accessible and getting from spot A to spot B can become much easier and comfortable.
How does addon Road Builder & Rail Builder work
We must warn you that obtaining the machines that will help you install roads and railroads will be difficult and the required crafting ingredients are very expensive, but for such a grand target, it is worth the effort.
Available machines:
Riding Mower
is a machine used to cut grass surfaces to an even height. The first picture below shows how to craft it.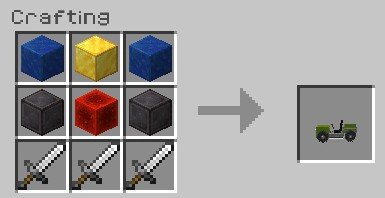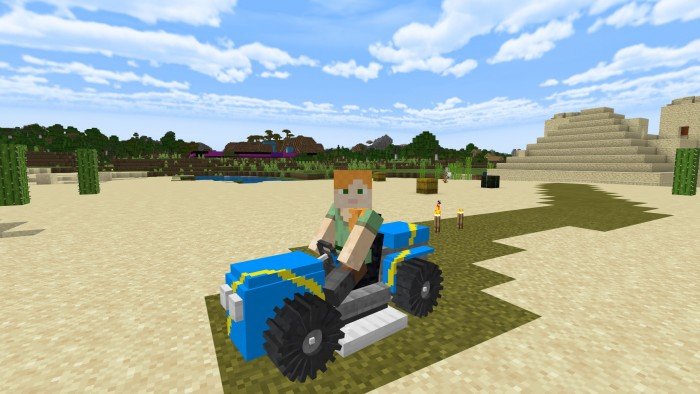 The riding mower has two modes. The first one can be used to transform concrete, sand, stone, or gravel into grass using iron blocks as fuel and the second places grass into air holes, which is a great solution for the holes created by creepers. The second mode works using grass as fuel (see picture below to learn how to make it).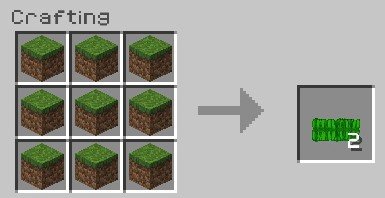 If you decide to break the mower, it will drop its own spawn egg.
Railroad Builder
. This machine places one or two powered rails on approximately thirty blocks. To ride it, go south, east, north or south, but mind that the ground below the machine must be absolutely flat. This machine also requires fuel. Iron blocks are suitable for this task, but the fuel runs out pretty fast so you will have to refuel it every one or two minutes. When it runs out of fuel, you will receive a prompt on the screen. When destroyed, just like the mower, the railroad builder drops its spawn egg.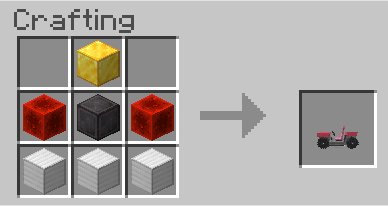 Below you can see the railroad builder crafting recipe.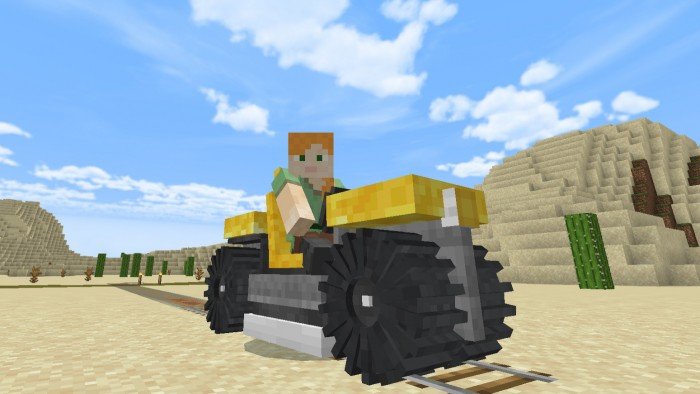 Road Builder
is the third machine provided by this addon. Thanks to this machine, you will be able to build wooden, white/grey concrete, or white/orange roads. The roads will have built-in lanterns to make the player's way illuminated and more comfortable to walk/drive on. To build wooden roads you will need gold blocks, white/grey ones are made from lapis blocks, and the white/orange ones from iron blocks. Choose what kind of block you want to use, hold it and interact with the builder to start it. Get in the machine because you will have to drive it like the above-listed ones. This machine runs out of fuel after approximately seventy-five minutes. You will get a prompt warning that you should refuel it. The road builder also drops ts spawn egg when broken.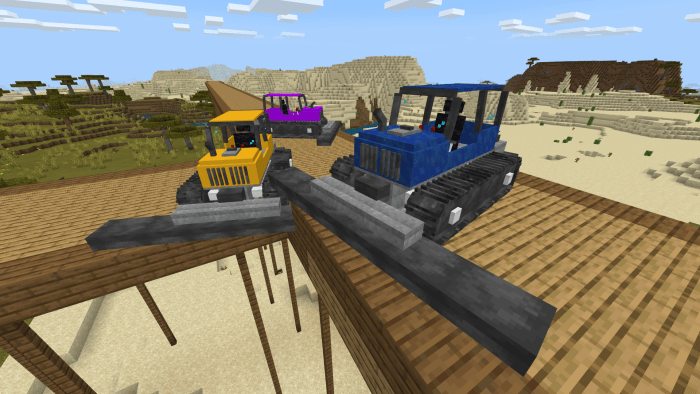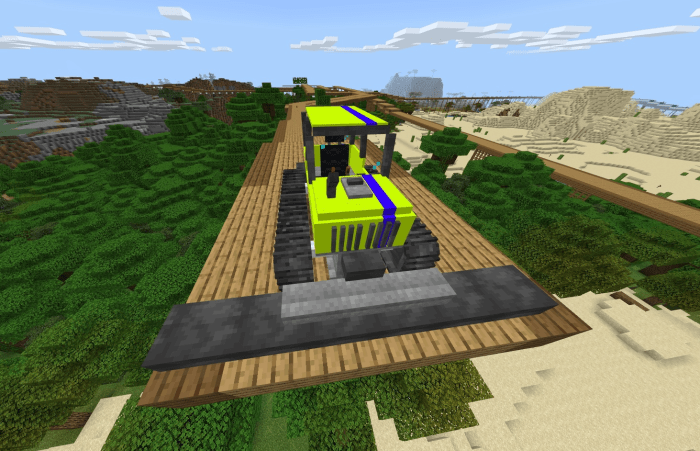 See the picture below to learn how to craft it.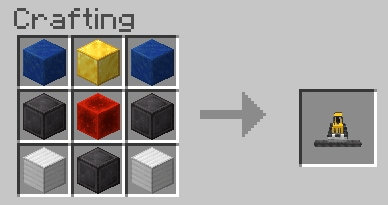 Now, to start building roads, railroads, and mow grass in your Minecraft PE world, download the addon by clicking on the button below the article.
Please make sure you have installed
Minecraft PE 1.16.100
or a newer game version before installing the addon because otherwise, it may not work.
For other cool
mods
,
maps
, and other game-related surprises, check our
website
and have a good time!
Video Trailer of Addon Road Builder & Rail Builder
Addon Road Builder & Rail Builder
---
30 May, 2021