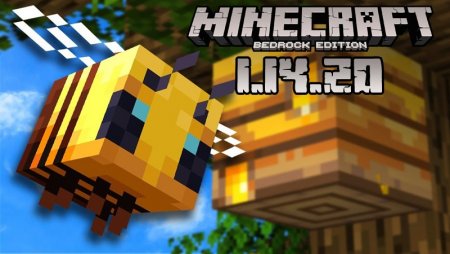 Minecraft 1.14.20
31 January, 2020
Game Minecraft PE
Hopefully, you have enough time to explore
Minecraft 1.14.20
because its list of fixes is a little longer than those we already got used to by studying the previous versions.
Even if some of the changes are already familiar to us from some betas released a while ago, this version also brings some new ones, combining all of them in a complex and useful game version meant to make our MCPE experience better than before.
Fixes in Minecraft Bedrock 1.14.20.1
Like always, the MCPE developer carried out great work at removing several game crashes, some of them happening during the gameplay, others when trying to do specific operations from some devices used for Minecraft PE, such as Nintendo Switch, Xbox 1, and PlayStation 4. More crashes that had to be fixed were related to the using of the firework equipped bows, to the raids, to the process of traveling through portals, and to the crafting grid (some of these crash fixes are also present in
Minecraft PE 1.14.2.51
).
In addition to the crashes, our hard-working developers also had to fix the following issues:
Chosen by the player skins reverting in case he/she decides to reload his/her game

iOS 13 and Nintendo Switch users failing to carry out specific in-game operations

Some popular texture packs not being unstable or even not loading from some devices

Split-screen players being left in a limbo state in some cases

Players and tridents bouncing uncontrollably in specific in-game situations (fix also present in Minecraft PE 1.14.2.50)

Mobs failing to spawn below transparent blocks

Pillagers refusing to attack sometimes

Parrots sitting incorrectly on the player's shoulder

Bees flying in and out whenever their nests are on fire

Failure to shoot projectiles between blocks

Failure to obtain the Bad Omen effect after destroying a Pillager Captain

Honey bottles showing an "item" tooltip instead of "nature" tooltip (fix also present in Minecraft PE 1.14.25.1)

Uncolored Shulker Boxes not retaining their colors

Wolves not walking towards each other to breed

Several text-related bugs

Several bugs related to animations

Players teleporting and rotating incorrectly

Sensing component not calculating the mob's view direction on the Y axes.

All of the above-listed issues were fixed and will not prevent players from having a nice gameplay anymore, so if you want to try this version, don't hesitate to push on the download button, but do share the good news with your friends too.
We recommend you to visit our
website
daily because new game releases are on their way and we do want you to be among the first to try them! Good luck!
Video of Minecraft Bedrock 1.14.20.1
---
31 January, 2020