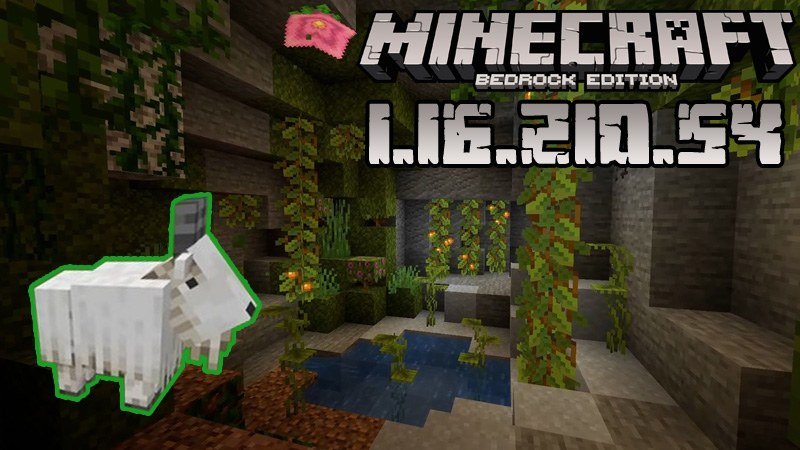 Minecraft PE 1.16.210.54
8 January, 2021
Game Minecraft PE
The last update released last year was
Minecraft PE 1.16.210.53
. We must admit it was an interesting version bringing so many new features affecting the powder snow and other game aspects. In
Minecraft PE 1.16.210.54
which is the very first version released this year there are fewer changes, but we still recommend you to try it because some of the most noticeable bugs have been fixed and there is some important news about some commands.
Because this version is a beta one, we must warn you that it will replace your existing builds, thus it is recommendable to save copies. Another important fact is that unfortunately, you won't be able to play with people preferring full versions and in Realms while trying it.
What's new in Minecraft Bedrock 1.16.210.54
Like we already told you, several commands have been subject to important changes:
Now anyone can delete needless structures from the list of saved structures. For this, there is a new command which is /structure delete (name of the structure you want to delete)

The /screenshake command has an additional option. This is the stop action

Users cannot exceed the max number of standalone ticking areas now, regardless of all the possible tricks available earlier

The users won't receive excessive numbers of messages when using many /tickingarea remove or add commands on the same tick

The bug making the /SendtCommandFeedback hide the outgoing messages was resolved

The spawn evens will serve as suggestions for the /summon command

The options for the selector arguments can be completed automatically properly after choosing one

A bug affecting the teleport command was resolved

All the documentatrion for the Bedrock Server Commands was improved and updated

Other changes:
The score holder's values are now displayed on the table's right side

A bug making the boats from the template worlds with a version earlier than Minecraft Bedrock 1.16.100 float was resolved

There is a new slider to control the text-to-speech sound volume

Starting with this beta, the emote wheel will support the screen reader, but only on Android and iOS devices (for now)




All the characters played with in split-screen will be saved and the player can use this character when re-entering the game

Ink sacs obtained from trading with the wandering trader can be used when crafting something.

Dear Minecraft PE users, if you want to try the first beta released this year, hit the download button below the video trailer, share the good news with all your friends, and leave feedback.
Follow our
website
and you will always be among the first to learn about the
latest game updates
and about other game-related surprises. Have a good time!
Video of Minecraft PE 1.16.210.54
---
8 January, 2021