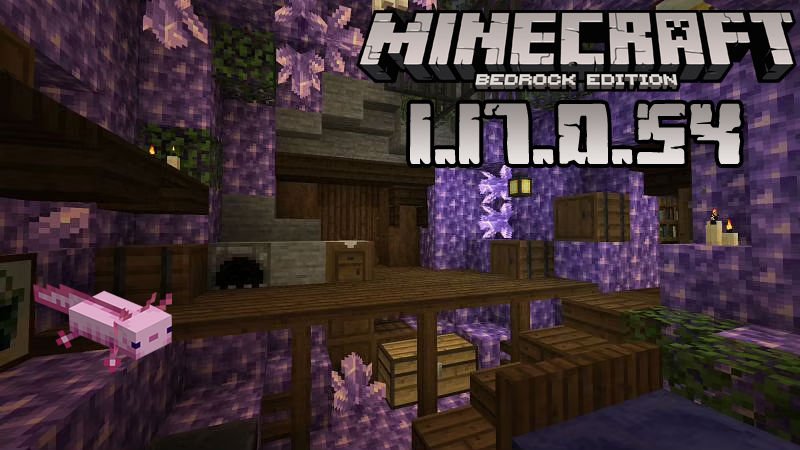 Minecraft PE 1.17.0.54
8 May, 2021
Game Minecraft PE
The Mojang Studios team continues to work on making the Caves and Cliffs update as interesting as possible so we can enjoy an amazing gaming experience. In
Minecraft PE 1.17.0.54
the developers did not add any new features, but instead, they have updated a lot of existing ones and fixed many bugs that could prevent us from playing normally.
Features of Minecraft Bedrock 1.17.0.54
If you managed to read about or even install and try
Minecraft PE 1.17.0.50
and
Minecraft PE 1.17.0.52
, you may have noticed that the game developers have already removed a lot of game features from under the experimental toggle. In the present beta, they worked on making these features more interesting to the players, so, from now on:
The axolotls will have slightly different behavior when pretending they are dead. They won't be able to do it on land and won't be able to move during the process.

The skeletons will turn into stray when inside powder snow, just like in the Java edition

Powder snow blocks can be dispensed with powder snow buckets

All the mobs will be able to pathfind on powder snow

Scaffolding cannot be used on powder snow anymore

You will need a different amount of time to mine powder snow blocks. This feature was modified to match the one in the Java edition

You won't be able to avoid sinking into powder snow by jumping on it

Azalea leaves will drop their items when broken

Flowering azalea leaves will drop their items when broken

Infested deepslate will spawn in extreme hills

By breaking deepslate copper and copper ores you can obtain two or three raw copper

You will need nine pieces of copper ingots to craft one copper block and this block can be crafted down into the same nine copper ingots

The textures of raw gold, copper, and iron items and blocks ores were updated and look better now

The textures of compasses and clocks were updated and look better now

Spore blossoms won't be able to survive in waters

The sounds played when waxing and dewaxing copper and when the squid and glow squid drop ink were improved (and added where they were missing)

Signs created in older versions won't be brighter than the new ones

By breeding a normal goat with a screamer one, you can obtain screamer baby goats more often than before

Water will drop from stalactites with a different frequency than before

Items looked at using the spy glass will render correctly

Spy glass was added to the Equipment tag

Piglins will admire raw gold

You will be able to find minecarts with chests in mineshafts (experimental features)

Strongholds will be more difficult to find in caves (experimental features)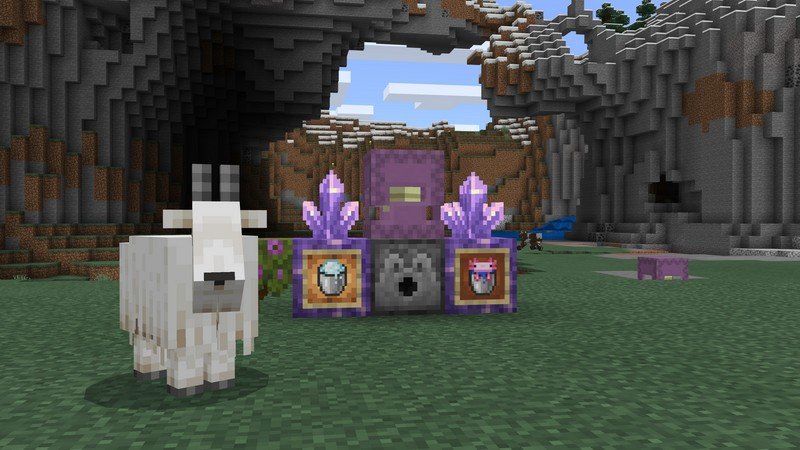 In addition to these changes, the developers also fixed several bugs affecting the cursor sensitivity, the keyboard settings, and the "kick" command.
They also prepared several nice surprises for the map makers and addon creators. The most important ones are the fact that they have added a new optional flag to the "minecraft.genetics" component and that they developed the option to create volumes in the gaming world.
If you want to try this beta, don't forget to make copies of your existing builds first because otherwise, you risk losing them. We also recommend you make copies of the worlds you are going to create in this beta too because you won't be able to access them using older versions.
If you are happy about the release, don't hesitate to share the good news with all your friends and to leave feedback.
Visit our
website
if you want to explore other interesting Bedrock-related articles with free download buttons, including the most fascinating
maps
, the most beautiful
textures
, and other surprises. Have a good time!
Trailer of MCPE 1.17.0.54
---
8 May, 2021