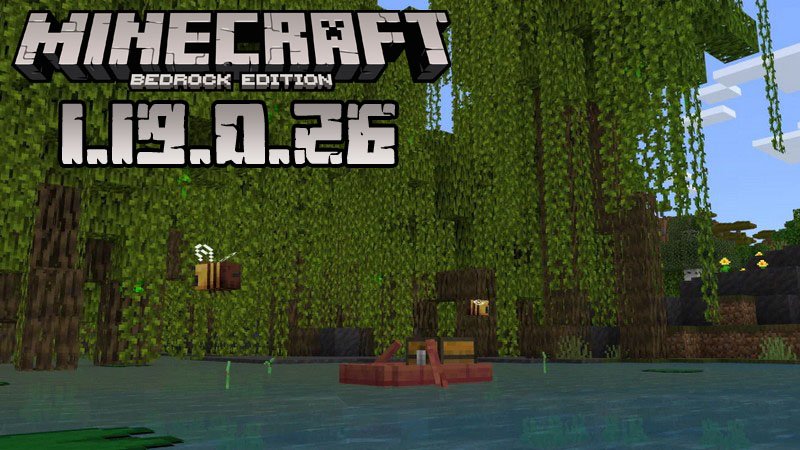 Minecraft PE 1.19.0.26
26 April, 2022
Game Minecraft PE
Several days ago we told you about a new full version called
Minecraft PE 1.18.30
but since it was already discussed, we will ignore this topic today because we have to get back to the Wild Update! Mojang team released
Minecraft PE 1.19.0.26
beta, and just like the previous ones, it brings very cool surprises to explore.
Features of Minecraft Bedrock 1.19.0.26
You must be curious to find out what new features this beta brings. These are:
The Echo Shards. We already mentioned them when we described Minecraft PE 1.19.0.24. You will definitely use them a lot in crafting from now on, but be careful because they generate in ancient cities and the loot from those places is not easy to obtain. On the contrary, you risk your player's life.

Warden's new kind of attack called Sonic Boom.




New music playing in Minecraft Bedrock. This new music represents the Wild Update atmosphere.

This update also contains fixes of the following issues:
Warden continuing to sniff even when he already has a target

Warden not reacting in any way when pushed by a mob

Warden not dropping the correct number of XP when killed

Warden making the game crash when the player fights him and decides to switch to another game mode

The textures of Ancient Cities no matching those in the Java edition

Allays showing an incorrect tooltip when the player wants to give something to them

Reinforced deepslate being breakable by ender dragons and wither explosions

Reinforced deepslate being located in the incorrect inventory tab

Some mud brick features being grouped incorrectly in the creative tab menu

Certain kinds of boats with chests having outdated textures or colors

Dear friends, these changes and fixes have been done in relation to the Wild Update features, but there are more done towards other features, including illagers and raids, touch control settings, light blocks, and more. These fixes are not so major so we will let you discover them individually. If you want to know about them before installing the version, you can watch the video trailer below.
In case you missed any previously released updates, you can find them all on our
website
's
Download MCPE
section. Here you will also find the upcoming game versions, but until then, enjoy the one described above. If you want to have an even cooler Bedrock experience, you can also try our free
maps
and other content. Have a good time!
Video of MCPE 1.19.0.26
---
26 April, 2022