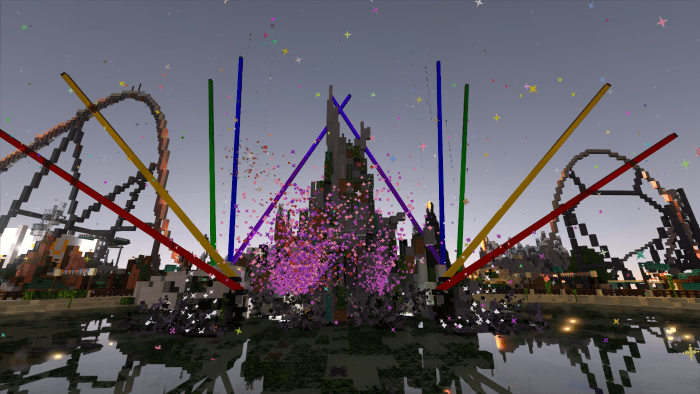 Map Fantasy Islands 1.13
28 February, 2021
Minecraft PE Maps
Some of our subscribers already visited the amusement park we will talk about today in 2019 (
Fantasy Islands (Theme Park) Map
), but then it was not as developed and beautiful as it is today thanks to a recent update. This updated park can be visited by downloading
Map Fantasy Islands
.
Features of map Fantasy Islands
The Fantasy Islands amusement park has seven themed areas for every taste. These are:
Dragonspire Keep Area




Xanerth Area




Crypts Area




Hobbiton Area




Rum Cove Area




Lost Island Area




Kahiti Area




All the attractions provided by this map can be enjoyed in multiplayer. If you and your friends will have a lot of fun if you are passionate about pirates, hobbits, if you like going through horror experiences or just admiring beautiful places.
Below you can see a video trailer of the updated Fantasy Islands.
To download this map, hit the download button below the video, invite your best friends to join you, and leave feedback.
For other amazing
maps
, visit our
website
. Here you will also find the
newest game updates
, including
Minecraft PE 1.16.210.61
which is the freshest one. Have a good time!
Video of Map Fantasy Islands
---
28 February, 2021