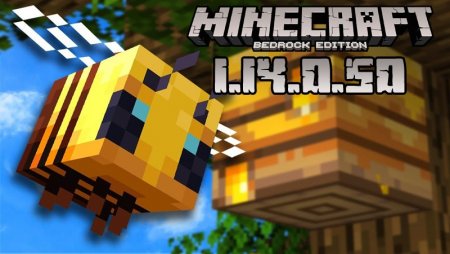 Minecraft 1.14.0.50
17 November, 2019
Game Minecraft PE
Today we are offering our subscribers the chance to explore three of the latest game versions:
MCPE 1.13.1
,
MCPE 1.14.0.6
and
MCPE 1.14.0.50
. We will talk about the latest one's features in this article.
First, let us mention that this is not a full version, thus you cannot play in Realms and with friends using non-betas. Second, the builds created in betas cannot be accessed using any earlier versions, so better make copies of your worlds. Also, if you have any Minecraft work going on now, you would better have copies of it too, because the present beta will replace it and you might risk losing your builds.
And now it's time to finally find out what this version has for us.
Fixes in Minecraft Bedrock 1.14.0.50
Because a number of crashes were occurring during the gameplay, when loading the Character Creator, and when the players using Xbox One for playing MCPE were trying to exit Xbox Live, the developers had to work on solving them again.
Another thing causing a crash was shifting between two Minecraft pages, but it was also resolved.
The Character Creator also required a lot of improvement work since some noticeable errors were detected. These are:
Player model not being equipped correctly when the skin from Marketplace was applied and the player wanted to navigate via the Character Creator.

The player having to restart his/her game in order to see the added or the removed Founder's Cape after choosing one of these options.

Failure to see the equipped capes when entering Character Creator repeatedly

Not very correct proportions of skins, this issue being visible when playing on servers.

"Usable Everywhere" tag being present even on skins that do not roam to the Minecraft Earth augmented reality game.

Now all the above-mentioned Character Creator-related issues will not prevent you from experiencing and having fun with this awesome game option.
Besides the crashes and the issues regarding skins, several gameplay problems had to be fixed too:
Problem making the Leashed Bees sting more than one time, which isn't' quite normal, was fixed

Sugar cane used to break every time a water source was being waterlogged nearby. This was worked on too and will not happen anymore.

Now the milk buckets also make a drinking animation when the "use" button is pressed, but it ends in reasonable timing, without playing continuously until the button is released.

To make cakes, now you can use milk buckets

To obtain milk buckets, use custom buckets when milking cows.

These are all the changes and fixes featured in MCPE 1.14.0.50. To find out more about the version, watch the video trailer below.
After checking the beta, we recommend you to continue exploring our
website
because we have a lot of interesting
maps
,
mods
, and
texture packs
to offer! Enjoy your time!
Video of MCPE 1.14.0.50
---
17 November, 2019