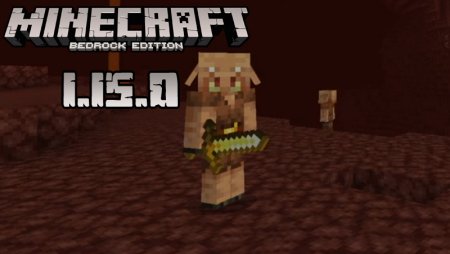 Minecraft 1.15
20 October, 2019
Game Minecraft PE
Nether represents the parallel dimension in Minecraft. It was once added to the game as a Halloween update and now the history is repeating with the upcoming
Minecraft 1.15
, dedicated entirely to the dark side of the game's world.
Features of Minecraft Bedrock 1.15
Nether was never a quiet and peaceful place but now, with the release of this new version, it will become even scarier, its biomes will be even creepier and the new mobs more dangerous than the already existing ones.
The Minecraft developers don't want to ruin the secret and reveal all the upcoming features, but from what we already know, there will be several new biomes, a lot of Nether blocks and two nightmarish mobs, very hard to defeat.
New biomes:
From what the developers considered that we must know, there will be several new biomes in the Nether among which:
New mobs:
Even if these new mobs are looking awfully scary and are very dangerous to the player, they can be helpful in some situations. As a hint, you should know that upon death they drop food, necessary for you to survive in this place.
New blocks:
The developers intend to add a lot of new blocks to make the Nether more atmospheric and your time being there more entertaining. From what we know, you will have access to:
Nether grass

Nether fungi

Target block (for hitting detection in contraptions)

We are sure that you, together with the rest of the MCPE fans want to know more about the upcoming update affecting the Nether and to finally try it, but we will have to be patient and wait for the release date which is planned for the beginning of the next year. Meanwhile, we have a few recommendations for you so you don't get bored.
The first is the absolutely awesome modern augmented reality game released at the end of the summer and you can download and try it right away.
Minecraft Earth
will bring some great game features and opportunities to your real world.
Also, you can meet and interact with bees by installing
Minecraft PE 1.14.0.1
. These small, but very active new mobs will give you a lot of work to do.
Visit our
website
on a regular basis to be always up to date with the latest MCPE-related new, including the release of the Nether Update described above!
---
20 October, 2019